Uploading low-content books to Amazon KDP is an excellent way to make money! Now, we know what you're thinking, when it comes to writing a book, you have no idea where to start!
All the studying you did for English class has quickly left your head. However, there's no need to panic! With low-content books, you do not need to know how to write a book! 
Low-content books are an excellent way to generate a passive income stream.
In this article, we will tell you if Amazon allows you to upload no-content books on their site, and more! If you're interested, then read on.
What Are Low-Content Books?
Amazon does indeed allow you to upload low-content books to Amazon KDP. Hooray!
But before you can jump on this passive income train, you first need to ask yourself: what are low-content books? 
Well, Amazon KDP allows individuals to publish their books without a publisher. Authors need to upload their books one by one and then they can begin to get sales.
The only time investment during this process is the time it takes you to write and edit a book.
If you want to make passive income and have very little time on your hands as is, then this will naturally be very inconvenient for you. 
Enter low-content books!
Low-content books are extremely easy to create. They are books with very little content inside them, meaning they take very little time to make and upload.
Low-content books usually have the same couple of page layouts that will repeat, such as a weekly planner. 
On top of that, Amazon allows individuals to upload no-content books. No-content books are books that have a single page repeated.
These pages often do not have any writing on them. A great example of this is a lined notebook. No-content books require no creativity at all to create, hence the name.
Passive income has never been easier! 
Examples Of Low And No-Content Books
Let's check out some examples of low and no-content books.
They are:
Journals
Blank sheet music
Log books
Sketchbooks
To-do list books
Planners
Trackers
Kids doodling books
Kids writing or composition books
Notebooks
Let's take a closer look at one of the examples above. Linked here is a music and lyrics notebook. This notebook repeats the same pages over and over.
In the corner is a blank score sheet for individuals to write their own music.
Most of the page is taken up by blank space decorated with bars and musical symbols, where individuals will be able to write their own lyrics.
This is a great example of a no-content book! 
Low-Content Book Guide: Book Design
So, now that you know you can upload low (and no!) content books onto Amazon KDP, and you understand what they are, it's time to get to work!
Before you can even think about uploading the book, you will first need to design it. Luckily, designing the book is very simple.
You will need to:
Create the book concept
Create the cover design
Create at least one interior page
When it comes to creating the concept of the low-content book, you need to first decide the kind of book you want to create.
Do you perhaps have a planner in mind? Or, do you want to provide people with a simple lined notebook with a beautiful cover?
The choice is yours! It can be helpful to do some Amazon KDP keyword research here. 
To do this, you can begin typing various words related to your low-content book into the search bar to see what comes up. You can do exactly the same on Google.
This is a great representation of what people are looking for and you can begin to build your low-content book concepts from there! 
When you have refined your book concept, let's say it's a simple planner, the perfect low-content book. Now, you need to think about both the interior page design and the cover design.
Let's check these out in more detail!
Low-Content Book: Cover Design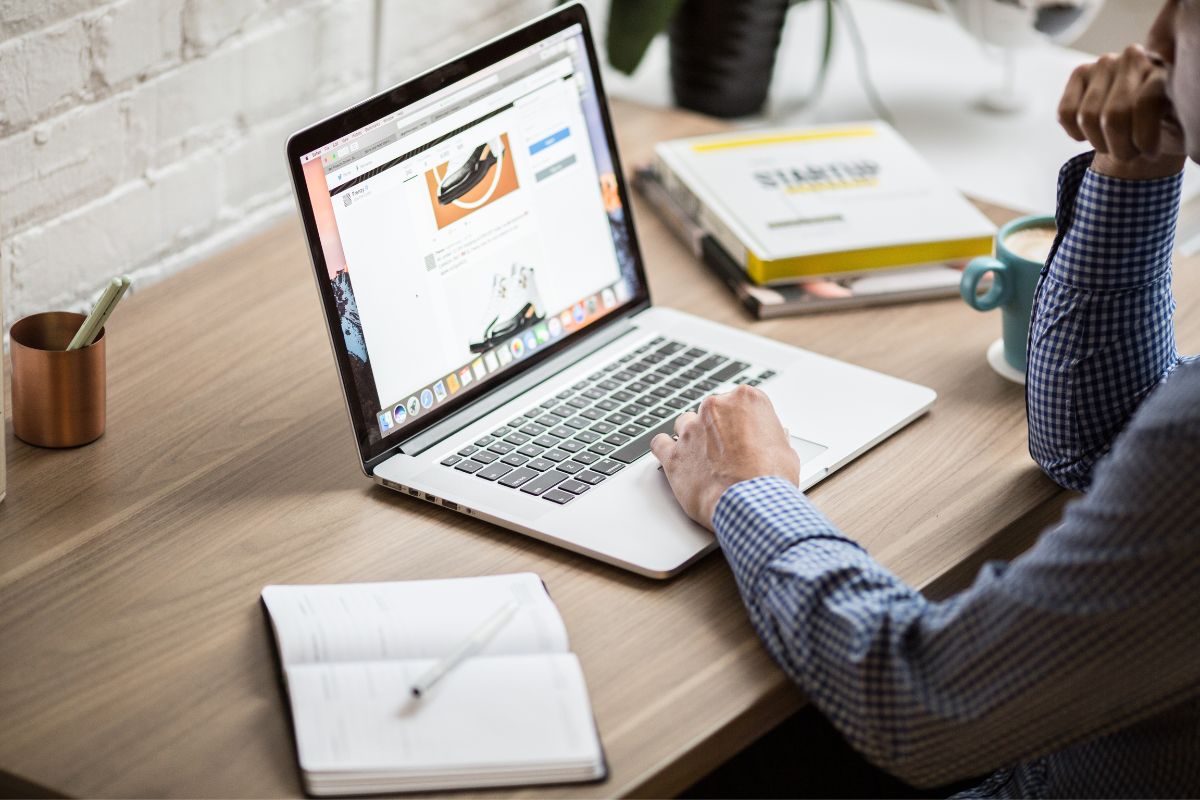 In regard to the cover, it is best to think about who the target audience for your low-content book is. For each book you create, it is best to have a specific type of customer in mind.
From here, you can think about the type of cover they would appreciate and get to work designing it. It is good to be very specific about the cover because you can use the same design on the inside of the book, and only the cover needs to change. 
For example, let's say you were making notebooks. You can get extremely specific with notebooks, even so far as writing names and titles on the front, such as "notebook for mom", "teenage girl", "cat-lover" etc.
People are likely to buy these because they identify with them! 
A great tool to use for designing low-content books is Canva! You can choose to pay or you can use the free version. If you're making a simple notebook, you only need to use the free version.
You can quickly make lines and then export the page as a PDF with as many pages as you like! 
This will be the interior page uploaded to the author dashboard on Amazon KDP at a later stage.
When it comes to the cover, it needs to be exact, based on the size of the interior pages of the book. Here is an excellent KDP cover template creator that you can use on Canva to design the cover.
This is a very simple, creative process and once you are finished, you can download the print-ready PDF from Canva!
Low-Content Book Guide: Uploading To Amazon KDP
Once you have your cover, you can get ready to upload it to Amazon KDP! To do so, you will need to make an Amazon KDP account if you don't already have one.
Once you have made the account, you will need to provide information about your book, such as:
The type of book (in the case of your low-content book, paperback)
The language of the book
The book title, and any subtitle
The author
A brief description of the book
The publishing rights (Amazon likes to know if you own the copyright for the book)
The keywords for the book
The ISBN (assigned to you by Amazon KDP)
The date of publication
What print options you wish to choose (you can choose the paper type and color, the book size, and any other options for the final product)
Once all this has been done, all you need to do is set your price! Amazon KDP will inform you of the cost of printing and the final royalty payment.
For books that are priced low, you typically will not get a huge amount of royalties. However, once you start selling multiple books a day this can really add up!
Now, your book is finalized and ready to be uploaded to Amazon! Congratulations on your first low-content Amazon KDP book!
Final Thoughts
Making low-content Amazon KDP books is a very simple, fun process.
Consider the best keywords for your low-content book concept, design and make the cover and interior pages, upload it to Amazon KDP, and watch as the money rolls in!