Quick campaigns allow you to create campaigns for a specific ASIN, our AI takes charge and implements rules to continually optimize your campaigns for maximum effectiveness.
Steps to creating a campaign #
To get started, head to Quick Campaigns and select Create Quick Campaign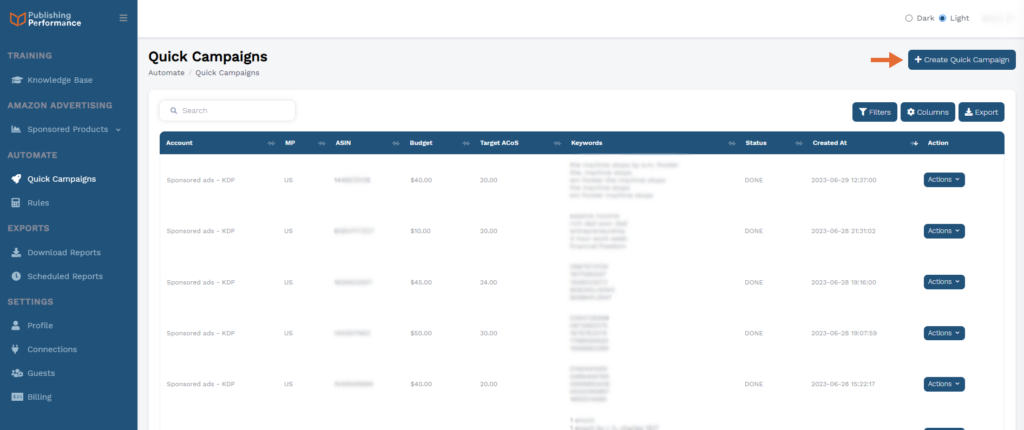 1. Enter ASIN #
Enter the ASIN you want to launch a campaign for.

Note: each campaign can only belong to a single ASIN. This is as it is best practice and allows better optimization of campaigns and more control over budget and search terms.
2. Select Account #
Select the account/marketplace you want to launch the campaign in.
And click Create
3. Enter Target ACoS #
Your target ACoS will vary from product to product, this defines if the campaign is profitable or not.
If you are unsure what you want for your target ACoS, please check out our guide Choosing Your ACoS to learn more.

4. Enter Daily Budget #
Enter your daily budget for the selected ASIN, this daily budget will be split over multiple campaigns.
A good-performing campaign budget shouldn't run out, if you need help selecting your budget please refer to our guide Choosing Your Budget for more info.
5. Select Keywords #
Enter the top 5 keywords for your selected ASIN.
Your chosen keywords will be added to your Keyword Ad Groups, our AI then uses these keywords to continuously harvest top-performing related keywords.
Our AI will use your advertised ASIN to harvest more ASINs and apply them to your Product Ad Groups.
Need more help? Check out our Selecting Keywords guide.
6. Create Your Campaign #
Review your campaign details.
For each ASIN/Quick Campaign, our AI creates the following campaigns and ad groups:
Auto Campaign
Manual Campaign

Broad Ad Group
Exact Ad Group
PAT (Product Attribute Targeting) Ad Group

Campaign / Ad Logic #
An Auto Campaign will be used to harvest good keywords, these good-performing keywords will then be added to the Board Manual Campaign.
If a keyword is high performing it will be moved from a Board Manual Campaign to an Exact Manual Campaign.
Likewise, good performing ASINS from your Auto Campaign will be moved to a PAT Manual Campaign.